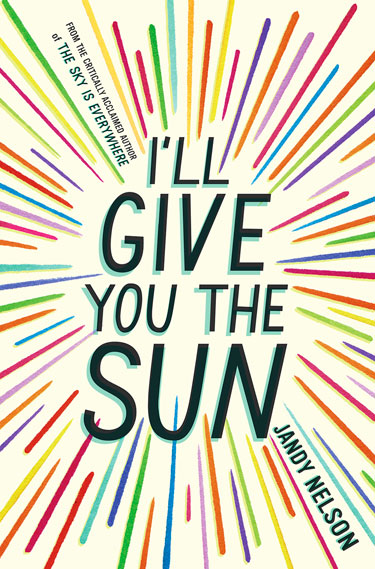 Title:
I'll Give You the Sun
Author: Jandy Nelson
Pages: 317
Publication: September 16th 2014 by Dial
Series: Standalone
Buy on the Book Depository
A brilliant, luminous story of first love, family, loss, and betrayal for fans of John Green, David Levithan, and Rainbow Rowell

Jude and her twin brother, Noah, are incredibly close. At thirteen, isolated Noah draws constantly and is falling in love with the charismatic boy next door, while daredevil Jude cliff-dives and wears red-red lipstick and does the talking for both of them. But three years later, Jude and Noah are barely speaking. Something has happened to wreck the twins in different and dramatic ways . . . until Jude meets a cocky, broken, beautiful boy, as well as someone else—an even more unpredictable new force in her life. The early years are Noah's story to tell. The later years are Jude's. What the twins don't realize is that they each have only half the story, and if they could just find their way back to one another, they'd have a chance to remake their world.

This radiant novel from the acclaimed, award-winning author of The Sky Is Everywhere will leave you breathless and teary and laughing—often all at once.
Hey guys!
This is going to be a bit strange of a review because I am drowning in feels right now. But not happy feels or angry feels or sad feels, just beautifully overwhelming ones.
It's unavoidable.
And just because this is a relatively newish book, I'm going to leave this part spoiler-free. So you can read this first if you want, and then read the book, knowing how awesome it is. Or you can read it and come back and read this. Just make sure you end up doing both. But since some of the stuff I do want to talk about is spoiler-filled, the bottom section (with a warning before) is basically all the spoiler stuff. So I suggest you read the book and then read that part.
Anyways, after being on my Goodreads TBR forever, I finally bought a copy of I'll Give You The Sun by Jandy Nelson. I actually picked it up off the shelf, walked around, found other books, then put it down. A few minutes, I picked it back up. I repeated this about 30 or 40 times because there were so many books I wanted to buy and I only had the budget to buy 2 hardcovers and 1 paperback. But what finally won me over was the fact that this had a cool cover, was signed, and was on a ton of lists as a great book. Right from the first page, I was hooked on this story. I fell asleep reading it, and the first thing I did when I woke up was to continue reading it.
This book definitely makes my list as one of the best I've read this year. It was heart-wrenching at times yet full of joy at others. It jumbled my emotions so much I couldn't think straight. And it was impeccably, beautifully written. It's so good I just read it and have already carved out time next week to read it again.
Wow...
I think one of the main reasons I loved this book is the way it was pieced together. I love how the chapters are told not only in alternating perspectives but that they're told in the past and in the present. The story comes in bits and pieces but at the end, everything fits together. There are still those jagged lines that cut the picture apart, but there are no spaces between information. Everything makes a bit of sense.
I think from page 1 (okay, more like 13 or something) I fell in love with the characters. Noah, soft-spoken, charismatic, scared but full of expression. And Jude, daredevil, defiant, bold and brave, but scared. Yet what the author quickly makes clear is that these characters are flawed. It's not often that main characters in a book have flaws and dirty secrets. And if they do, those are exaggerated and often completely overwhelm the good side of them. But not in this book. Noah and Jude are real people. They mess up. They have guilty consciences. Their lives are messed up. But they'll always be there for each other, no matter what. They'll bring each other up on the darkest days. And even though they make mistakes, they move on. The characters in this book were just so true to life that I didn't doubt their story at all. After all, they were the type of people that could be living right across the street from me.
The reaction when you realize your neighbor is actually Clark Kent.
One of the things I loved about this book is this amazing relationship Noah and Jude have. There's romance involved in this book, most definitely, but the key focus is a completely different type of love: the love of family, of twins specifically. Noah and Jude are connected in inexplicable ways. If one of them cries, the other feels sad even though the other does not know the former is crying. They don't have the famed 'twin telepathy' but they get each other, more than anyone else does.
And the art. The dang beautiful art. This book made me want to pick up a paintbrush and just cover my tiffany-blue walls with leaves and rocketships and music notes and stripes. Everywhere. This book made me want to actually get out of bed and get my lazy butt to an art museum. If anything, this book opened my eyes to what art really is. It isn't just a pretty picture. It's a story that demands to be heard. It's pain that demands to be felt. (TFIOS reference!) It's a feeling that you can't explain with a billion words. Art is expression, and this book made that clear with the beautiful tales of it.
And that title. I didn't get it at first, and was like, that's kinda cool, but it could be cooler. But then I read this passage in the book, where Jude trades all the oceans, stars and trees in the world and the sun for a drawing by Noah. And at that point, she goes, "I'll give you the sun." OMG so deep, you guys. So deep. I can't even anymore.
Now for my favorite part. Spoilers! Are you guys ready?
Another thing I loved about this book is that there is some insane character development going on. Noah finally gets over the fact he's gay, and Jude realizes that her boy boycott isn't going to bring her mom back. She puts on one of her breathtaking dresses instead of her blending in uniform and finally makes her dreams come true with Oscar, who was the guy she gave up the trees, oceans, stars, and the sun for. (Well, for a cubist drawing of him, but close enough.) They also grow apart but grow close in different ways. For example, Noah and Jude used to always match when they played rock-paper-scissors, but now they don't. But they love each other even more as a result of circumstances.
Circumstances
meaning drama.
There's this part in the book where Jude says she got into CSA and Noah didn't. And I'm like Whaaaaaaaaa? How did that happen? Because no offense or anything, but Noah's a better artist than Jude. And then she confesses that she never sent Noah's application. That caused me to call Jude quite a few names in my brain. And then I find out that Noah knew the reason for their parent's divorce, but he never told Jude. And that their mom was in love with Guillermo, the sculptor who's mentoring Jude. So then they were both even. And, ohmigosh guys!!! At that point, everything came together. And I was so dang happy. I almost cried.
The only thing I wanted from this book was another bazillion pages to read. A lot more of amazing pages to devour and read again and again.
This book is one of the most beautiful ones I have ever read. Five stars for being a spectacular read!