Hi guys!
Unlike Kaylie, I almost never buy books. But today, I actually bought 3. That's a huge deal for me. I think the main reason I don't buy books is because I read them too fast and tend not to re-read. But I just picked up Afterworlds by Scott Westerfeld (signed!) I'll Give You The Sun by Jandy Nelson (also signed!) and The List by Siobhan Vivian. I also just got 6 new books from the new library in town. I wanted to check out like 30, but unfortunately my mom thought I might not do anything else for a month if I checked out 30 books. So I had to settle for 6. Anyways, in this post, I'll be describing my book haul...and attempting to keep it interesting.
Don't Look Back by Jennifer L. Armentrout
Isla and The Happily Ever After by Stephanie Perkins
Rose Under Fire by Elizabeth Wein
Ruin and Rising by Leigh Bardugo
Imposter by Susanne Winnacker
Afterworlds by Scott Westerfeld (signed)
I'll Give You The Sun by Jandy Nelson (signed)
The List by Siobhan Vivian
Don't Look Back by Jennifer L. Armentrout: I saw this book on Goodreads a while ago, and decided mainly to read it because the cover looked cool. Also, this book's plot line seemed super intriguing, and even though I didn't like Armentrout's Lux series, I still decided to go for it. And I ended up loving this book! It's a mystery that keeps you guessing until the very last page, but there's a killer romance too. So basically lots of awesomeness.
Samantha is a stranger in her own life. Until the night she disappeared with her best friend, Cassie, everyone said Sam had it all-popularity, wealth, and a dream boyfriend.





Sam has resurfaced, but she has no recollection of who she was or what happened to her that night. As she tries to piece together her life from before, she realizes it's one she no longer wants any part of. The old Sam took "mean girl" to a whole new level, and it's clear she and Cassie were more like best enemies. Sam is pretty sure that losing her memories is like winning the lottery. She's getting a second chance at being a better daughter, sister, and friend, and she's falling hard for Carson Ortiz, a boy who has always looked out for her-even if the old Sam treated him like trash.





But Cassie is still missing, and the facts about what happened to her that night isn't just buried deep inside of Sam's memory-someone else knows, someone who wants to make sure Sam stays quiet. All Sam wants is the truth, and if she can unlock her clouded memories of that fateful night, she can finally move on. But what if not remembering is the only thing keeping Sam alive?
Reality Boy by A.S. King: This book was amazing. I was drawn to it because of the plot line, and it was just as interesting as I expected it to be. There were times when I wanted to stop reading it because of my extreme hatred towards the mom and older sister in this book, but I kept reading because I knew the author had done a good job writing it and that was why the characters were so hateably three-dimensional, instead of being boring. Cuz no one likes boringness.
Gerald Faust knows exactly when he started feeling angry: the day his mother invited a reality television crew into his five-year-old life. Twelve years later, he's still haunted by his rage-filled youth—which the entire world got to watch from every imaginable angle—and his anger issues have resulted in violent outbursts, zero friends, and clueless adults dumping him in the special education room at school.



Nothing is ever going to change. No one cares that he's tried to learn to control himself, and the girl he likes has no idea who he really is. Everyone's just waiting for him to snap…and he's starting to feel dangerously close to doing just that.
Isla and The Happily Ever After by Stephanie Perkins: I had read Anna and Lola a while ago, and I must say this book was a fantastic conclusion to the series. I can't say much without spoiling the book, but *swoons* extreme fangirling occurred after reading this.
Hopeless romantic Isla has had a crush on introspective cartoonist Josh since their first year at the School of America in Paris. And after a chance encounter in Manhattan over the summer, romance might be closer than Isla imagined. But as they begin their senior year back in France, Isla and Josh are forced to confront the challenges every young couple must face, including family drama, uncertainty about their college futures, and the very real possibility of being apart.
Rose Under Fire by Elizabeth Wein: I must admit, I picked up this book without reading the inside flap or the back cover, which I always do. But since it's a companion novel to Code Name Verity, I'm sure it'll be good. It's next to read in my list!
While flying an Allied fighter plane from Paris to England, American ATA pilot and amateur poet, Rose Justice, is captured by the Nazis and sent to Ravensbrück, the notorious women's concentration camp. Trapped in horrific circumstances, Rose finds hope in the impossible through the loyalty, bravery and friendship of her fellow prisoners. But will that be enough to endure the fate that's in store for her?
The Darkling rules Ravka from his shadow throne.



Now the nation's fate rests with a broken Sun Summoner, a disgraced tracker, and the shattered remnants of a once-great magical army.

Deep in an ancient network of tunnels and caverns, a weakened Alina must submit to the dubious protection of the Apparat and the zealots who worship her as a Saint. Yet her plans lie elsewhere, with the hunt for the elusive firebird and the hope that an outlaw prince still survives.

Alina will have to forge new alliances and put aside old rivalries as she and Mal race to find the last of Morozova's amplifiers. But as she begins to unravel the Darkling's secrets, she reveals a past that will forever alter her understanding of the bond they share and the power she wields. The firebird is the one thing that stands between Ravka and destruction—and claiming it could cost Alina the very future she's fighting for.
Imposter by Susanne Winnacker: This book was recommended by Christina, and since she usually recommends great books, I decided to try it. I've yet to read it, but it looks promising.
Tessa is a Variant, able to absorb the DNA of anyone she touches and mimic their appearance. Shunned by her family, she's spent the last two years training with the Forces with Extraordinary Abilities, a secret branch of the FBI. When a serial killer rocks a small town in Oregon, Tessa is given a mission: she must impersonate Madison, a local teen, to find the killer before he strikes again.



Tessa hates everything about being an impostor—the stress, the danger, the deceit—but loves playing the role of a normal girl. As Madison, she finds friends, romance, and the kind of loving family she'd do anything to keep. Amid action, suspense, and a ticking clock, this super-human comes to a very human conclusion: even a girl who can look like anyone struggles the most with being herself.
Afterworlds by Scott Westerfied: This book's plot line looks really cool because it's kind of like two intertwined stories. I'm excited to see whether this book lives up to my expectations. I also like the fact it's nice and big, because I got my money's worth ;)
Darcy Patel has put college and everything else on hold to publish her teen novel, Afterworlds. Arriving in New York with no apartment or friends she wonders whether she's made the right decision until she falls in with a crowd of other seasoned and fledgling writers who take her under their wings…



Told in alternating chapters is Darcy's novel, a suspenseful thriller about Lizzie, a teen who slips into the 'Afterworld' to survive a terrorist attack. But the Afterworld is a place between the living and the dead and as Lizzie drifts between our world and that of the Afterworld, she discovers that many unsolved - and terrifying - stories need to be reconciled. And when a new threat resurfaces, Lizzie learns her special gifts may not be enough to protect those she loves and cares about most.
I'll Give You The Sun by Jandy Nelson: I loved this book. It was insanely awesome, and I would read it again in a heartbeat. Read my full review here.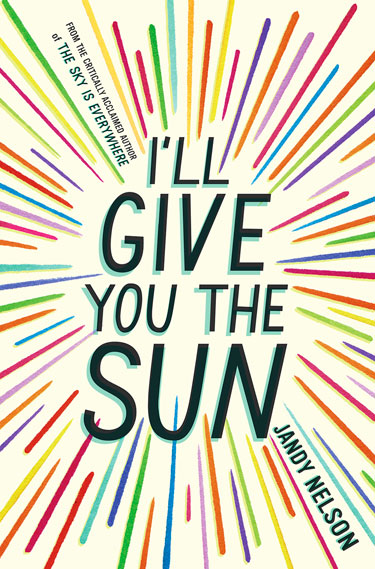 Jude and her twin brother, Noah, are incredibly close. At thirteen, isolated Noah draws constantly and is falling in love with the charismatic boy next door, while daredevil Jude cliff-dives and wears red-red lipstick and does the talking for both of them. But three years later, Jude and Noah are barely speaking. Something has happened to wreck the twins in different and dramatic ways . . . until Jude meets a cocky, broken, beautiful boy, as well as someone else—an even more unpredictable new force in her life. The early years are Noah's story to tell. The later years are Jude's. What the twins don't realize is that they each have only half the story, and if they could just find their way back to one another, they'd have a chance to remake their world.

The List by Siobhan Vivian: This was one of the few paperbacks who I actually wanted to read, so I picked it up. And I ended up enjoying it quite a bit, but I think the ending left a few things unanswered, which is annoying me and driving me crazy right now. Other than that, it was a good, realistic book.
An intense look at the rules of high school attraction -- and the price that's paid for them.



It happens every year. A list is posted, and one girl from each grade is chosen as the prettiest, and another is chosen as the ugliest. Nobody knows who makes the list. It almost doesn't matter. The damage is done the minute it goes up.

This is the story of eight girls, freshman to senior, "pretty" and "ugly." And it's also the story of how we see ourselves, and how other people see us, and the tangled connection of the two.



Tell me what you think of my mini book haul below! Have you guys read any of these books? What did you guys think?